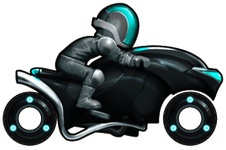 Faster than Super Bike
Unbreakable like the Ghost Bike
Agile as the Acrobatic Bike
---
Summary
The Ultra Bike is the last bike that you get in the shop. It's immense speed can prove to be disadvantageous, especially on the loop track.
It is a paid bike and can be purchased (without any discounts) for $29.99.
---
Strategy
---
Appearance
Helmet

Black colored with a big turquoise glass.

Clothing

Black suit and gloves. Has dark arm and knee pads.

Bike

Neon style. Black colored tires with 3 turquoise colored spots on the rims and it is a hog bike.
---
Trivia
Like any other bike that has ghost power, there is a glitch where the tires get stuck on the track, thus making a level almost impossible to complete.
This is one of the bikes that have 4 abilities and 5 stars,the other Three being the 5 star Tournament Bikes (Mainiac,Bandida,and the Thunder Phantom.)
This Bike is the Fastest bike in the whole game.
The Difference of the Speed between the Super Bike and the Ultra Bike is actually quite noticeable,only being 0.2 seconds different from each other.
If this bike was categorized by stars it would be a 5 star bike.[[Category:Card Game
Ad blocker interference detected!
Wikia is a free-to-use site that makes money from advertising. We have a modified experience for viewers using ad blockers

Wikia is not accessible if you've made further modifications. Remove the custom ad blocker rule(s) and the page will load as expected.