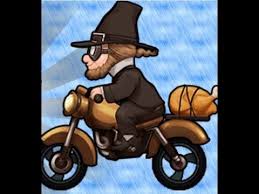 ---
Summary
You can earn the Thanksgiving bike by getting 24 Stars in Thanksgiving levels and Winning 100 Games in Multiplayer during November.
---
Strategy
To use this bike properly, you must be good with the default bike. It is not much different from it.
Appearance
Head

The bike rider is a pilgrim with no helmet. He wears a black pilgrim hat on his head. His head has brown hair and a beard on his chin. He also wears goggles to protect his eyes.

Clothing
Bike

The bike has a turkey on the back. The rest of it comes from light to dark brown. As usual, the wheels are black.
---
Trivia
This was the 2nd Holiday bike you could get.
During the month of Thanksgiving, there is also a black Friday event with cheaper bikes and a cheap shirt for bike race.
The Thanksgiving bike is not categorized by stars, but if it was, it would probably be a 1 star bike since it is very easy to get.