Summary
The Super Trooper is collected by getting the back, front, body/suit, and head/helmet.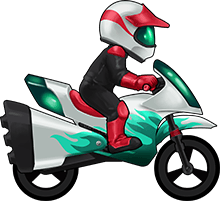 You also get it by getting the full bike from a chest.
Evolutions
This bike fuses into a Free Wheel when mixed with a level 10 Scooter, a level 15 Kickass, a level 15 AWD, all while being a level 15 Super Trooper.
Strategy
This bike has Super Speed, so you can go very fast with this bike.
Since this bike is breakable, you must be careful not to crash in tight tracks.
This bike is harder to control, because it is not acrobatic, so its rotation is slower than its speed.
Looks
Green windshield and lights.
Red gloves and shoulder caps.
Red decorations on helmet.
Trivia
This bike looks almost exactly like the Super Bike.
This bike is the most rare 2 star bike.
This bike is rarely used in Tournaments.
This bike is rarely used in Multiplayer.