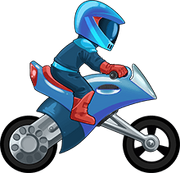 Summary
The Rewinder is a 1 star Tournament Bike that can be collected by getting the front, back, suit/body, and helmet/head.
You can also get it from a chest.
Evolutions
Can turn into an XReverse when mixed with a level 10 Scooter Bike while being a level 10 Rewinder Bike.
Strategy
This bike is not too different from the Original Bike so you must be good with the normal bike to use this bike.
Looks
Blue back wheel connector.
Sky blue undershirt and shoulder pads.
Blue shirt.
Blue/red visor.
Trivia
Just like all 1 star bikes, the maximum level of the Rewinder is 10.
This bike is commonly seen in multiplayer.
This bike is commonly seen in tournaments.