Summary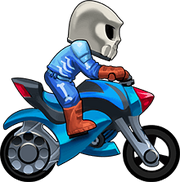 The Phantom bike is a 3 star Tournament Bike.
It can be gotten by a chest or by getting the front, back, suit/body, and the helmet/head of the Phantom Bike.
Evolutions
Strategy
The Phantom Bike has ghost abilities, letting you do shortcuts that otherwise couldn't do.
It can also go in Reverse, which can also save you some time when you need to go backwards.
Looks
Blue suit with white bones on it.
Redish, Brownish boots.
Black Wheels.
Trivia
The Phantom's maximum level is 50, just like all 3 star bikes.
Commonly seen in tournaments.
Rarely seen in multiplayer.
Ad blocker interference detected!
Wikia is a free-to-use site that makes money from advertising. We have a modified experience for viewers using ad blockers

Wikia is not accessible if you've made further modifications. Remove the custom ad blocker rule(s) and the page will load as expected.