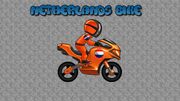 Summary
•The Netherlands bike is a 3 star World Tour/World Cup bike that represents the Netherlands.
•The Netherlands Bike requires you to get the head/helmet, front, back, and suit/body in order to unlock it. To get these parts, you must spend coins/gems on a Normal Bike Machine or a Rare Bike machine.
Strategy
•This Bike is about 3 miliseconds faster than the Normal Bike.
Looks
•This Bike has the colors of the Netherlands flag on the shoulder of the suit and the front of the bike.
•Wheels are black
•Metal parts and suit and helment are orange and black.
Trivia
•Just like holiday bikes, world tour bikes are rare because you can only get them 2 times a year.
•World Tour Bikes are not as rare as the Holiday bikes Because you can get them longer than 2 months.
•Since this is one of the rarist World Tour/World Cup bikes because it is hard to get.
Ad blocker interference detected!
Wikia is a free-to-use site that makes money from advertising. We have a modified experience for viewers using ad blockers

Wikia is not accessible if you've made further modifications. Remove the custom ad blocker rule(s) and the page will load as expected.