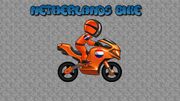 Summary
The Netherlands bike is a 3 star World Tour/World Cup bike that represents the Netherlands.
The Netherlands Bike requires you to get the head/helmet, front, back, and suit/body in order to unlock it. To get these parts, you must spend coins/gems on a Normal Bike Machine or a Rare Bike machine.
Strategy
This Bike is about 3 miliseconds faster than the Normal Bike.
Looks
This Bike has the colors of the Netherlands flag on the shoulder of the suit and the front of the bike.
Metal parts and suit and helment are orange and black.
Trivia
This bike is unusually orange because the flag is red, white, and blue
Just like holiday bikes, world tour bikes are rare because you can only get them 2 times a year.
World Tour Bikes are not as rare as the Holiday bikes Because you can get them longer than 2 months.
Since this is one of the rarist World Tour/World Cup bikes because it is hard to get.