Summary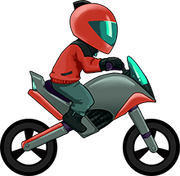 The Lucky Bike is a 1 star tournament bike that can be collected by getting the back, front, body/suit, and head/helmet of the Lucky Bike.
You can also get it by getting the full bike from a chest.
Evolutions
Strategy
This bike is not too different from the Regular Bike, so you must be good with that before using this bike.
Looks
Shiny grey/red metal parts.
Black thing on top of helmet.
Trivia
Just like all 1 star bikes, this bike has a max level of 10.
Rarely seen in multiplayer.
Rarely seen in tournaments.
Ad blocker interference detected!
Wikia is a free-to-use site that makes money from advertising. We have a modified experience for viewers using ad blockers

Wikia is not accessible if you've made further modifications. Remove the custom ad blocker rule(s) and the page will load as expected.