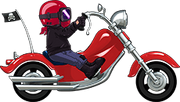 Summary
The Hedgehog is a 2 star bike that can be created by getting the back, front, body/suit, and head/helmet.
You can also get it by opening a chest with it inside.
Evolutions
It becomes an Acrobathog when you mix it with a level 10 Scooter, a level 15 Kick&*%, and a level 15 Acrobat while it's a level 10 Hedgehog.
Strategy
This bike has a Long Length, so you can do certain tricks that some other bikes can't do.
This bike is one of the easiest to crash with, so you must be extra careful when using it.
This bike has a helmet that can go very deep into the track without crashing, but if you go too deep, it will crash.
Looks
Black flag with white skull on it on the back.
Tiny silver pole for the flag.
Black Gloves with a white square.
Trivia
This bike is has a maximum level of 15.
Commonly seen in tournaments.
Rarely seen in multiplayer.