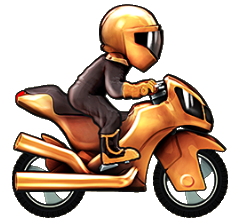 Get 24 stars in Desert
Get 24 stars in Arctic
Get 24 stars in Dunes
Win 3 consecutive races on multiplayer
---
Summary
---
Strategy
It is used to cross long distances, due to its high speed.
---
Looks
The Bronze Bike's design is similar to a sport motorcycle with a completely bronze body. Two large exhaust pipes are seen protruding from the side of the bike. The rider is wearing a black/brown jumpsuit with bronze gloves, boots, and a bronze helmet with a black visor and a red light on the back.
In League, The Bronze Bike looks rusty and has a darker color tone. The wheels are the only thing that look the same.
---
Trivia
The Bronze Bike has slower acceleration, but a higher top speed than the Regular Bike just like the Silver Bike and Gold Bike.
The Bronze Bike is one of the three bikes that coordinate with the colors of the medal system.
If this bike was categorized by stars it would probably be a 2 star bike, since it has 1 power.