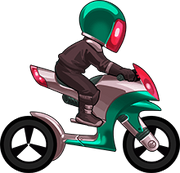 The 1WD Bike is a 1 star tournament bike that is collected when getting the back, front, suit/body, and helmet/head of the 1WD.
It can also be collected if you get it from a chest.
Evolutions
Edit
The back of this bike has a large space on the back that can be used to dodge the track.
That ability is unsafe and would need lots of luck to use.
Appearance
Edit
Shiny red front of helmet.