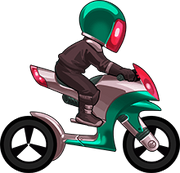 The 1WD Bike is a 1 star tournament bike that is collected when getting the back, front, suit/body, and helmet/head of the 1WD.
It can also be collected if you get it from a chest.
Evolutions
Edit
The back of this bike has a large space on the back that can be used to dodge the track.
That ability is unsafe and would need lots of luck to use.
⁃That is it's only ability, so it is not extremly different from the Normal Bike.
Shiny red front of helmet.
This is one of the hardest 1 star tournament bikes to get.
This bike is rarely seen in multiplayer.
This bike is commonly seen in tournaments.
Ad blocker interference detected!
Wikia is a free-to-use site that makes money from advertising. We have a modified experience for viewers using ad blockers

Wikia is not accessible if you've made further modifications. Remove the custom ad blocker rule(s) and the page will load as expected.